Whether you are in the process of planning a new arena, upgrading an existing arena or creating your own wish list for one day… when you win the lottery !
There are a few major components for which to consider.
Will it be an indoor or outdoor arena? Which shed company? What sand should I go with? How do I choose an arena surface? Who does arena Lighting? How much does an indoor arena cost? The list goes on.
In this blog I am going to talk about the Arena Safety Wall also referred to as an Angled Arena Wall, Angled Arena Fence, or Arena Kick Wall.
It is important to remember that the arena fence or arena wall should be aesthetically pleasing. It is a large part of the overall arena construction that your eye will be drawn to. It is also there to serve a purpose, so it should also be functional.
What does the arena safety wall do?
The angle of the arena kick wall is designed to push the horses away from the wall, thus protecting the riders legs.
The angle of the arena fence prevents a direct impact from a kick, or strike out of a horse. Minimising damage to the horse and the wall.
It will also prevent sand from building up near the wall.
When choosing the materials and design for your arena Kick Wall System, don't forget to take into consideration other features of the arena design.
Part of the general maintenance of a horse arena is grooming & watering. A good watering system needs to be installed. Is the water going to come into contact with the arena kick rail. This is important because water can quickly deteriorate, timber products if they are not well maintained (oiled or painted). Form ply for example once a horse has kicked and cracked it, it will allow moisture past the top layer it will swell and rot.
What options are there for an Arena Wall be built from?
Recycled PE Board
• Made with recycled PE Board, specifically designed for the Equine Industry to last in the harsh environment. It does not fade, rot, swell or warp. It is pest resistant and does not require ongoing maintenance to look good.
• The tongue and groove profile of our PE boards gives a timber like look. The individual slats absorb expansion and contraction of the recycled board.
• PE Board Infill in Black & Mineral Grey are stocked colours (other colour options available)
Pros of Recycled PE Board used as arena safety fence: Low lifetime cost, low maintenance, longevity
Cons of Recycled PE Board as an arena Surround: Initially more expensive
Form Ply
Sheet of form ply can be fixed on an angle around your arena. It is relatively DIY, and readily available at all hardware stores.
Pros of Form Ply used as an arena fence: Cost effective and readily available at hardware stores. DIY Installation
Cons of Form ply used as an angled arena wall: Shows signs of wear within 12 months, can chip crack and rot under conditions.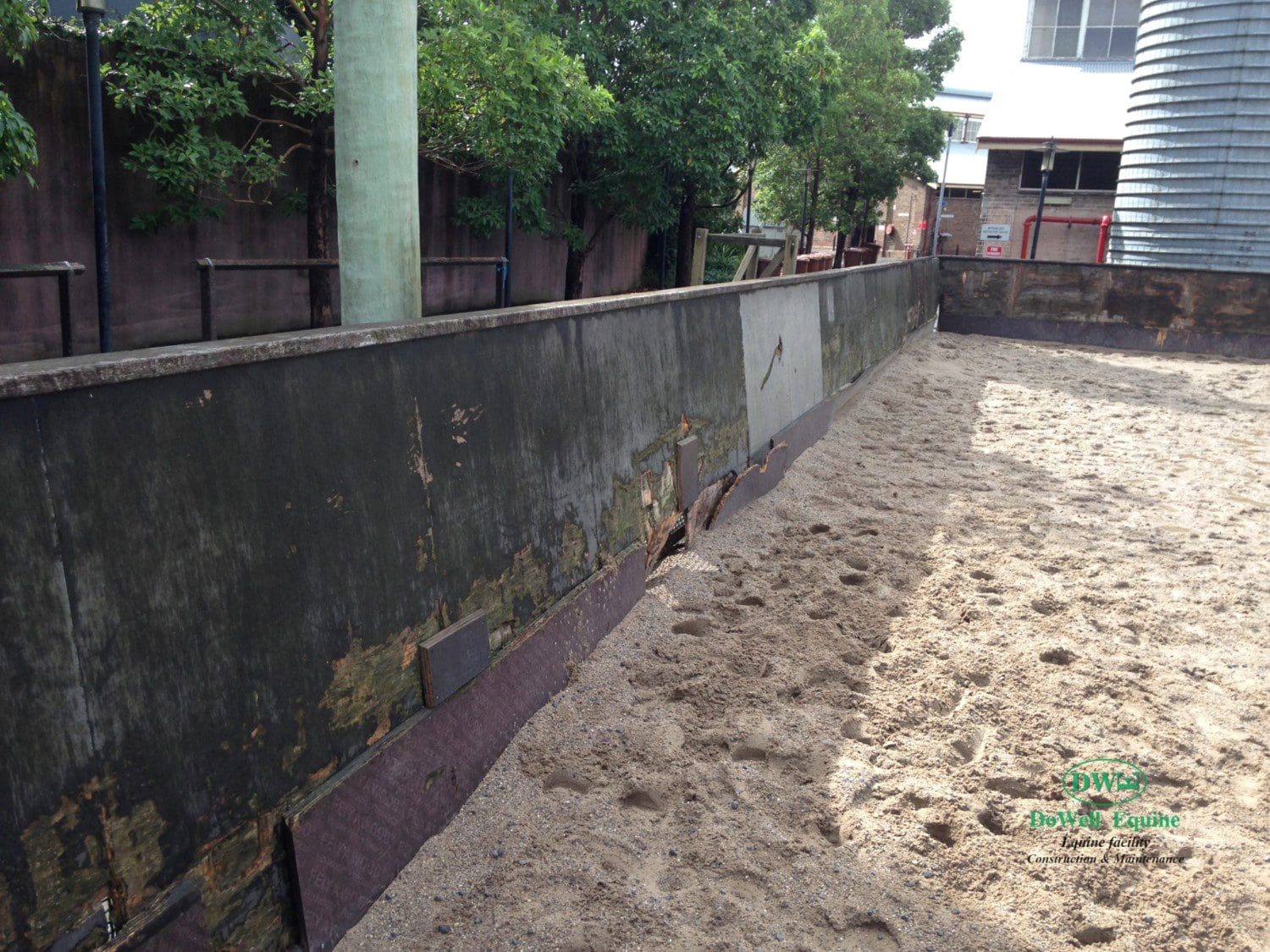 Hardwood Arena Wall 
When choosing hardwood as your arena wall. It is recommended that you choose a kiln dried hardwood with a tongue and  groove profile to prevent shrinking and warping of the wall. Arenas are constructed with long straight lines and timber boards can look uneven and out of place.
Pros of Hardwood arena wall: They look fabulous
Cons of Hardwood arena wall: Expensive, require maintenance to keep them pest free and from damage.   

DoWell Equine can provide supply and installation on all Arena Kick Walls for more information please don't hesitate to get in touch.