We can assist with your stable design
DoWell Equine manufacture Australian made stable panels using Australian Steel in their factory based in South West Sydney. Our focus is to create European inspired contemporary stable designs, that are not only practical but also durable and horse safe. DoWell Equine provide quality stable panels built from sustainable materials, minimising our impact on the environment and ensuring a low overall lifetime cost. Their various stable panel options available to provide you with flexibility when creating your horse stable design and fitting out your new or existing shed.
DoWell Equine horse stables are safe, strong, and practical. They typically are a "loose" box system. Meaning that your horse stables are supplied, so that they can be disassembled and re-assembled in case of relocation, or rearrangement. Note this may vary depending on your project.
Our standard stables are supplied Hot Galvanised Dipped (bathed in liquid zinc, providing up to 5 x better protection to the steel), with Recycled Plastic Boards, or with the option of Hardwood (fronts only).  Round bars penetrate the steel top and bottom for improved strength and are correctly spaced to minimise hoof injuries. Plastic stable boards are fixed within our flanged steel profile, to minimise any sharp edges and fixtures and fittings required during installation.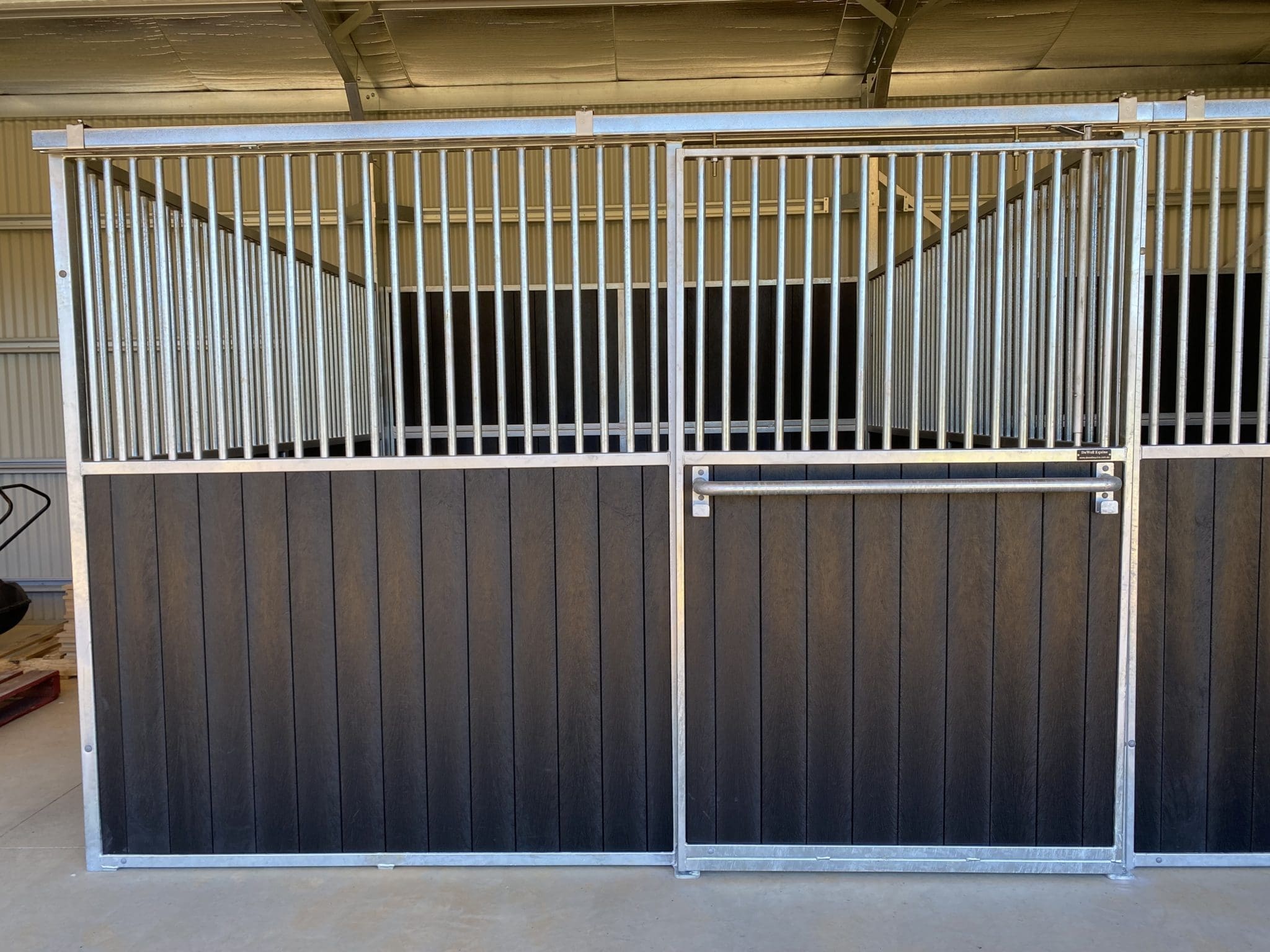 Standard Front Panel
A simple attractive horse stall, with sliding front door. Options for the door to be positioned offset (either left or right) or centred. The doors feature an automatic lock and can be operated whether inside or outside of the horse stall. 
 Options include a Window in the door, Rotating feed bin, Rug Rail.
Colours Black, Grey, Timber Laminate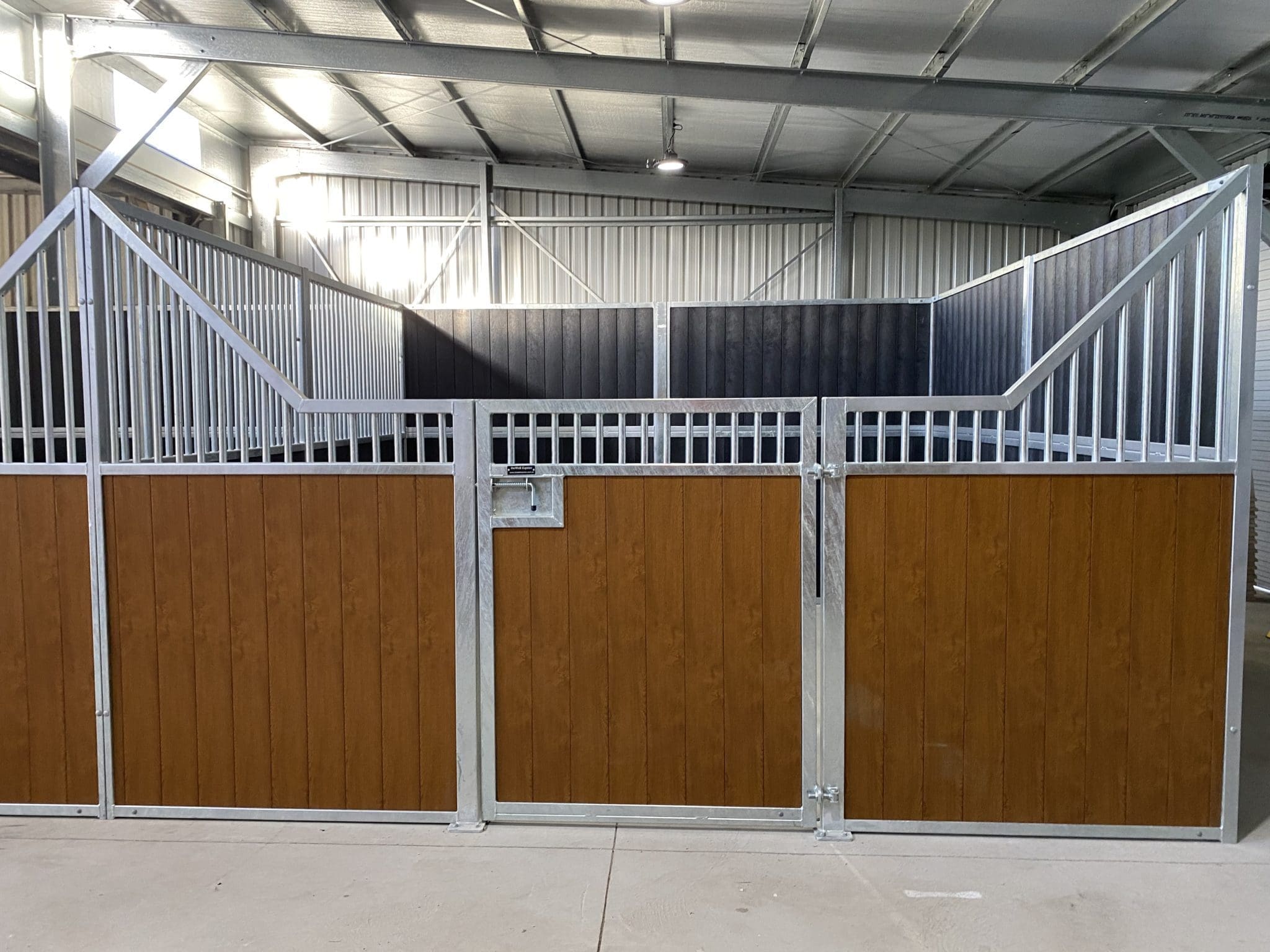 Low Front Stable Panel
Low front stable panel provides an attractive modern angular design, with head shields to limit access to nearby horses.
It comes with a heavy set square door posts, with a swinging door on adjustable hinges.  
Options include Rotating feed bin & Rug Rail.
Colours Black, Grey, Timber Laminate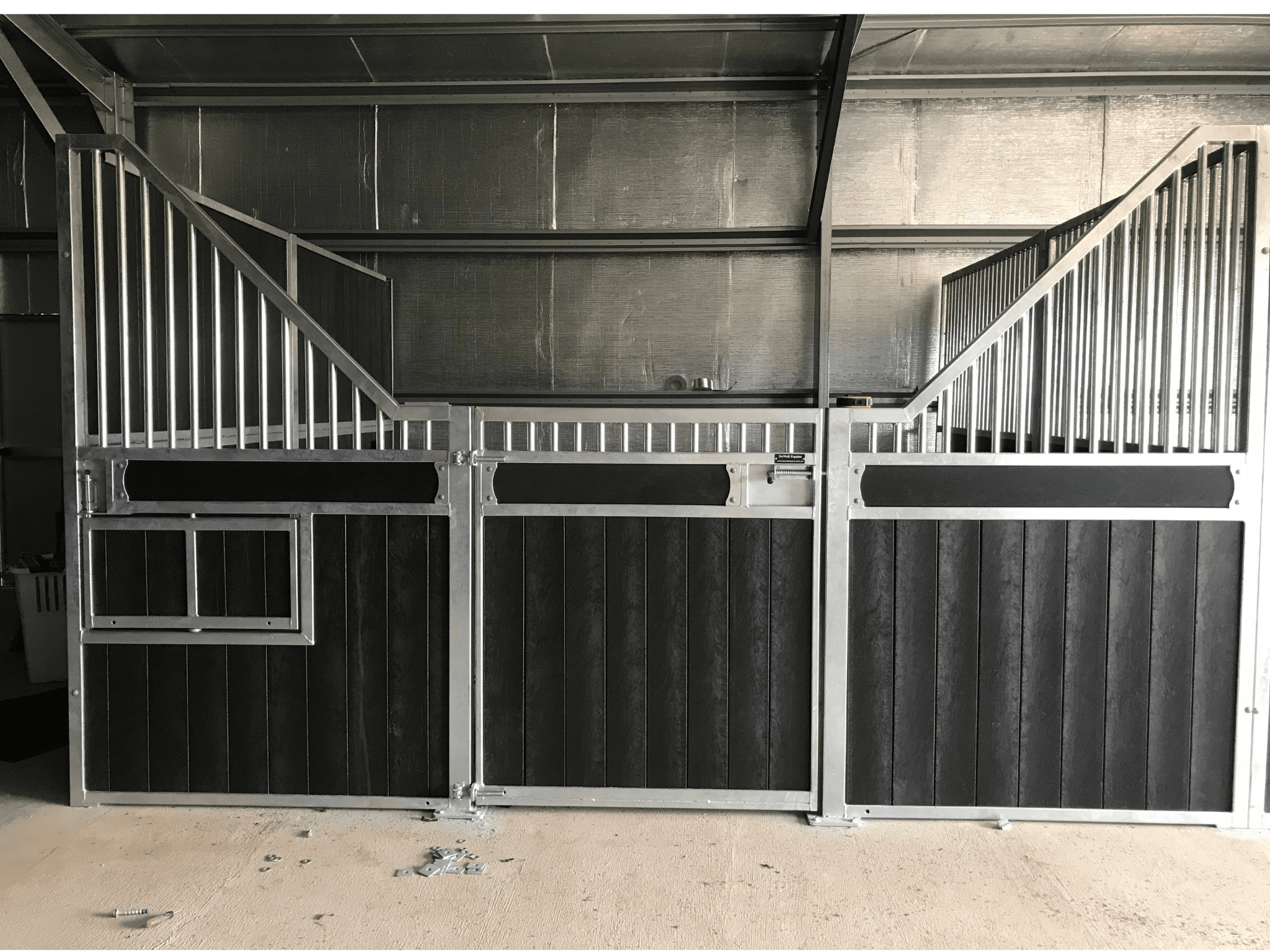 Classic Low Stable Panel
Stylish classic stable front designed diagonally stagged fronts with horizontal feature boards.
It comes with heavy set square door posts, with a swinging door on adjustable hinges.
Options include Rotating feed bin & Rug Rail. 
Colours Black, Grey, Timber Laminate or Hardwood
Options to suit Stable Fronts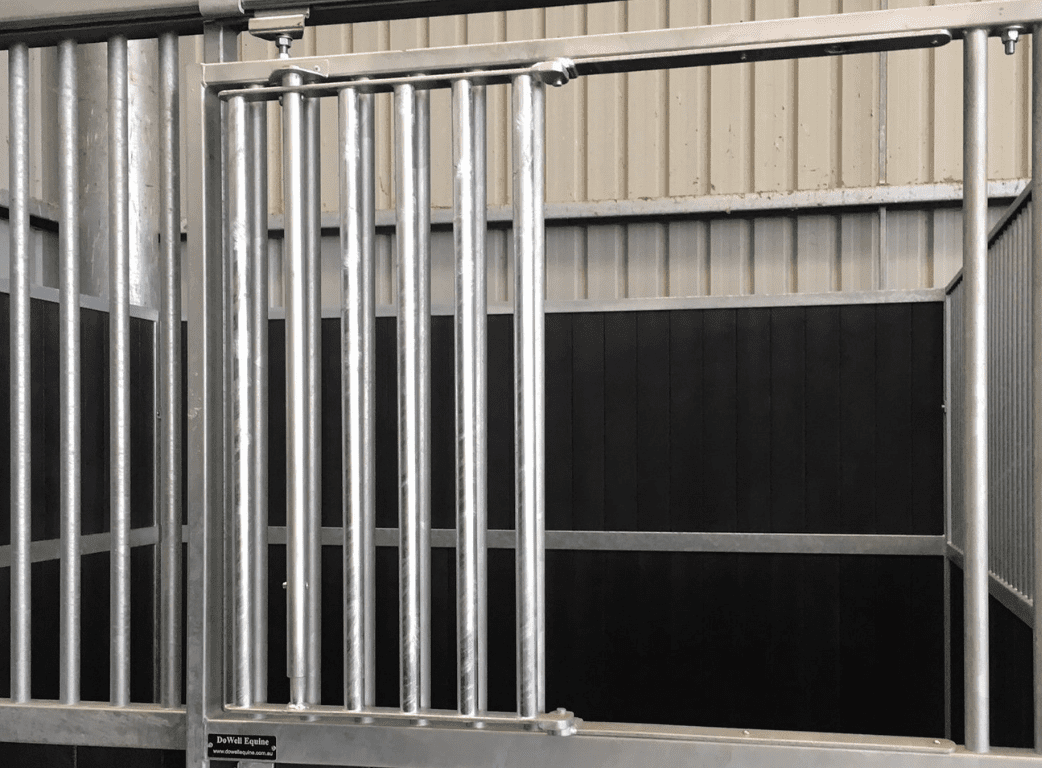 1/2 Window in door
A popular option to add to your stable door. The window allows you the option to control whether or not the horses to pop there head out into the breezeway. Also enabling you to lock them within their stable. It is operated by a pull bar mechanism. That can be operated from either inside or outside of the stable. Is free from any sharp edges and catch zones horse safe.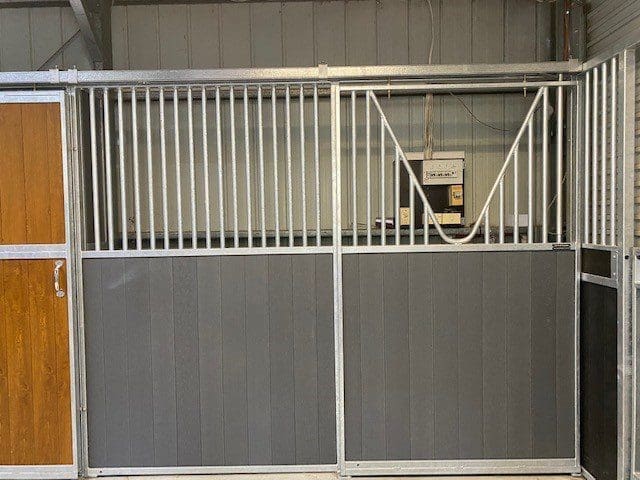 "V" Yolk - Window Option
 The "V" Yolk enables your horse to have their head out of the stable when it pleases them.
Note: There is no option to prevent horse from popping its head out.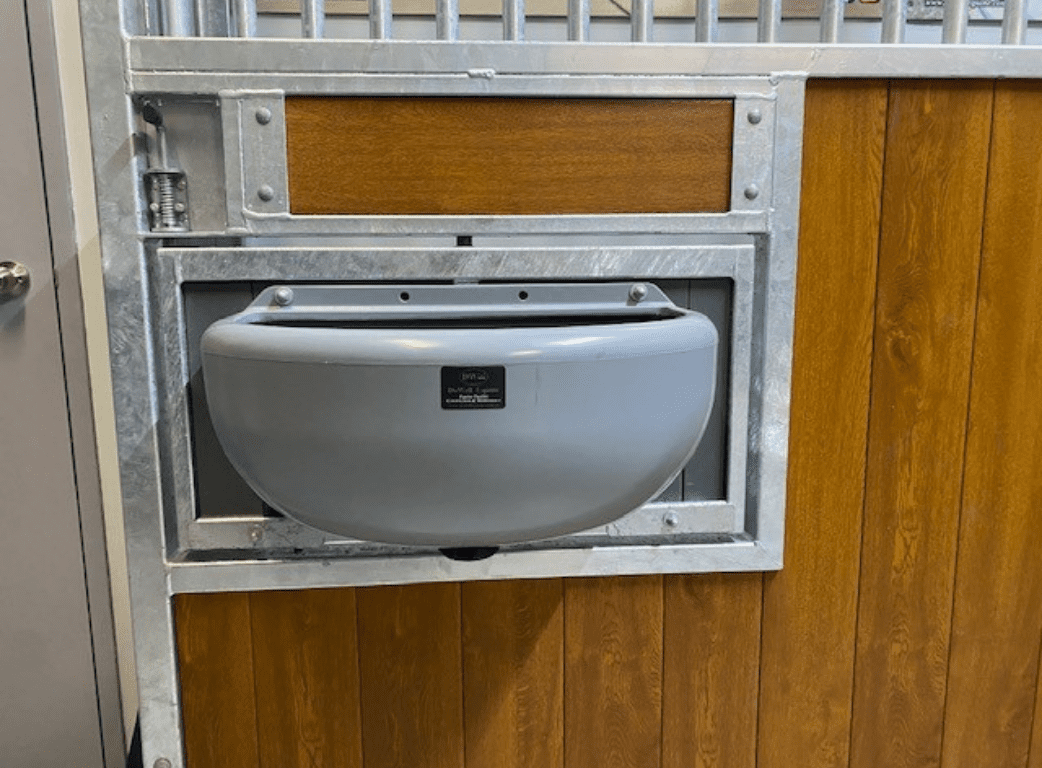 360 degree Rotating feed bin door
It's an ingenious option for your horse stable which enables you to  prepare meals before they are due, particularly if you have someone else feeding your horses. Or withholding the horses feed until after a medical appointment.
Includes: 28L Australian Made Poly Feed Trough.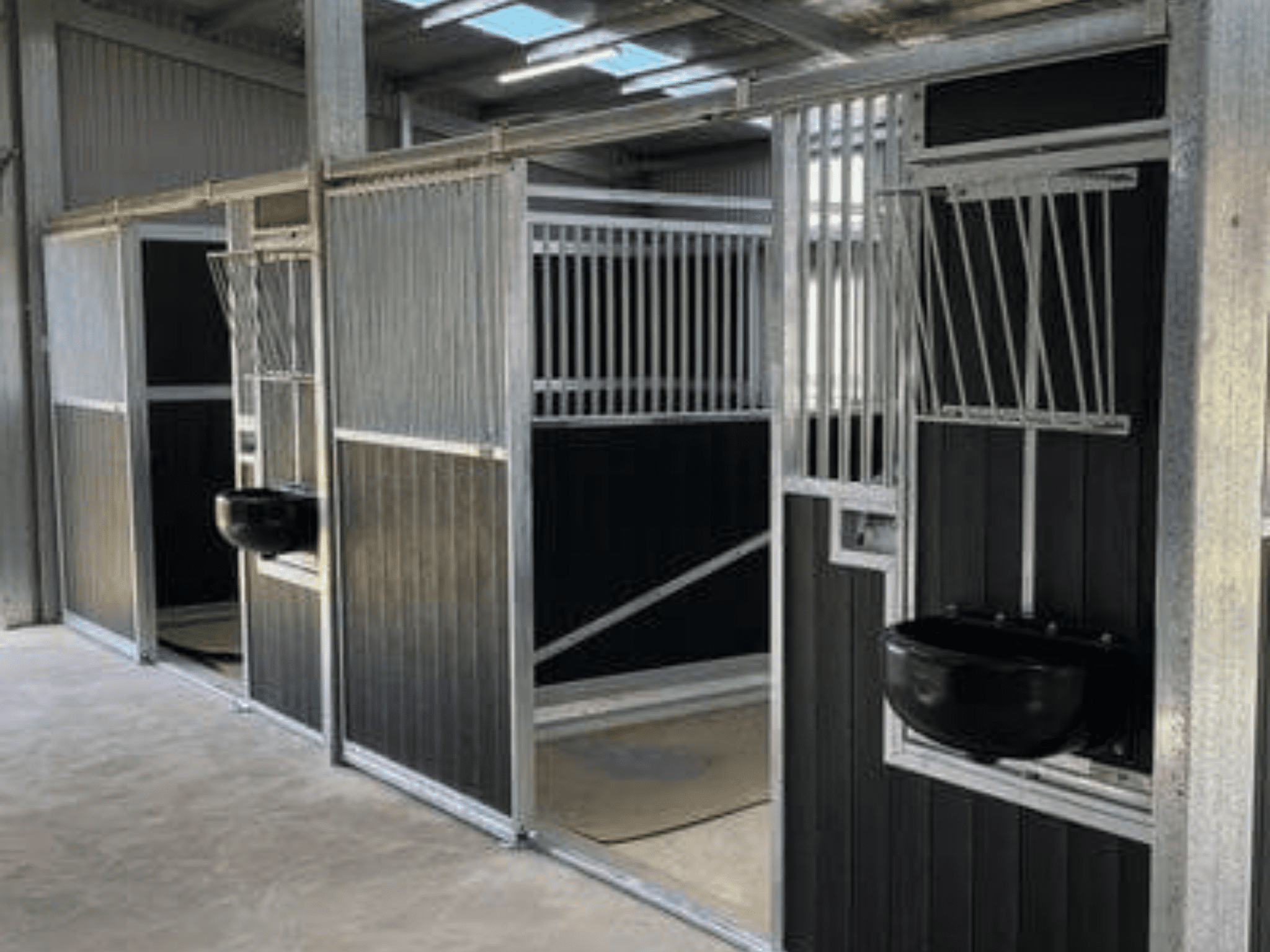 360 degree Rotating Hay and Grain Rack
Includes a hot galvanised dipped hay rack made from
28L Australian Made Poly Feed Trough.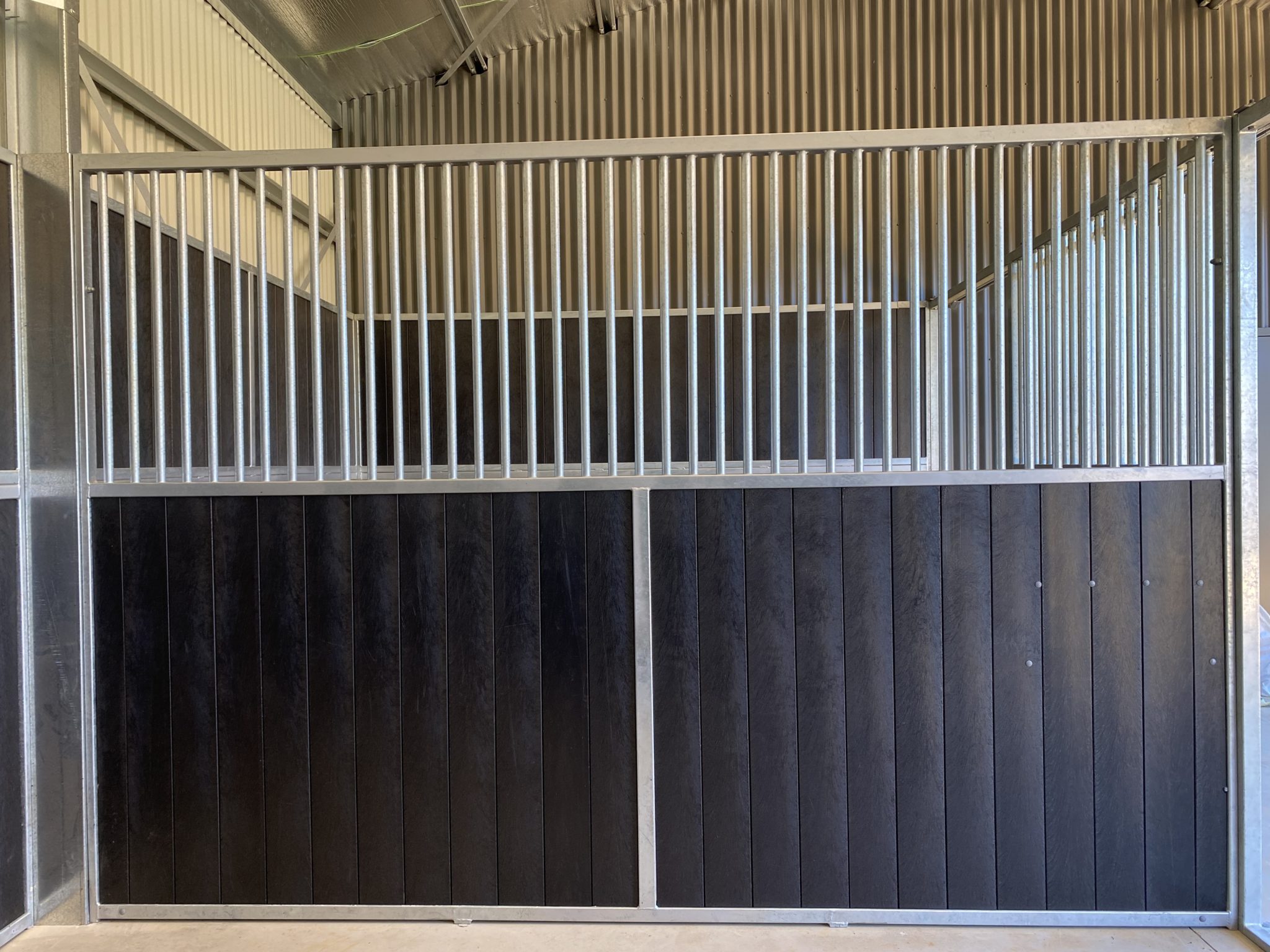 Standard Partition Panel
A simple boards and bars construction.
Option: Swinging Panel to convert box for mare and foal or rehab stable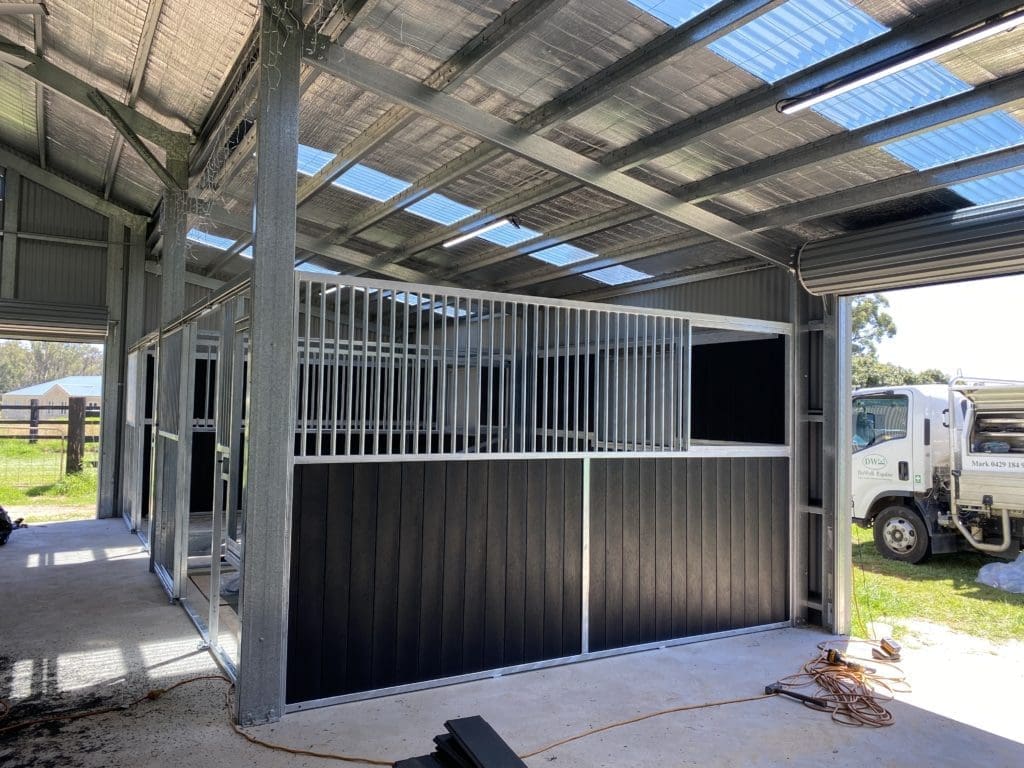 Privacy Partition Panel
The privacy partition panel enables you to have a solid partition located at the front, back or both or the partition to create privacy particularly at feed time.
Option: Swinging Panel to convert box for mare and foal or rehab stable.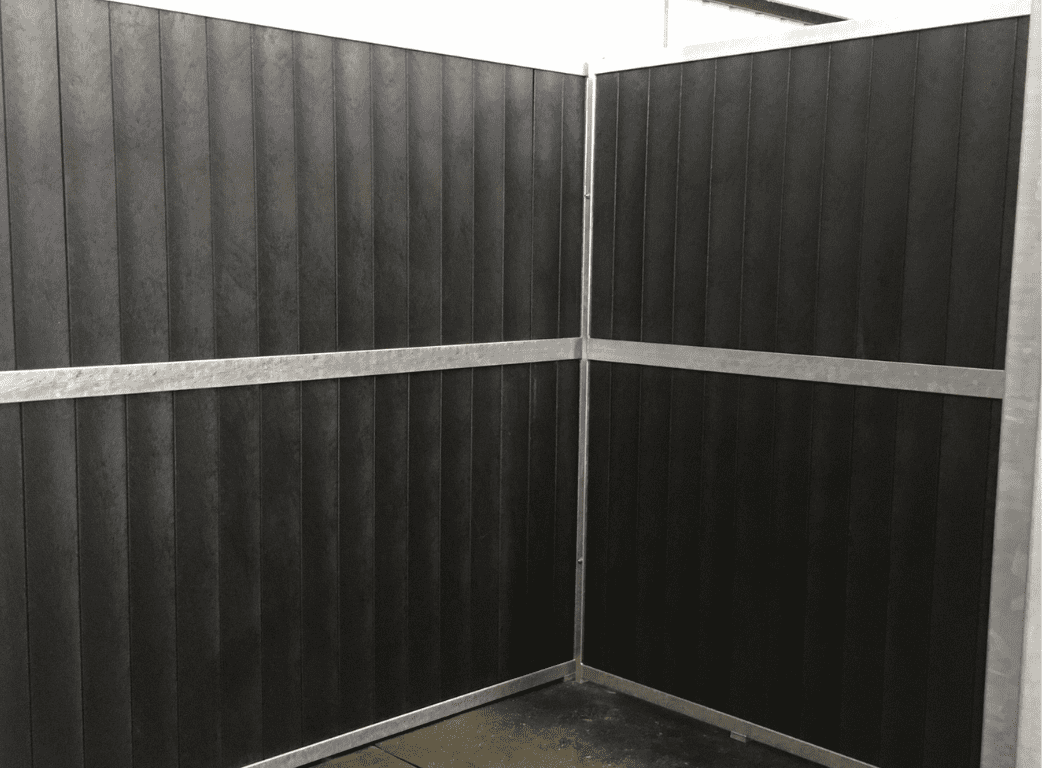 Solid Partition Panel
 A stable panel manufactured from boards top and bottom to complete the horse stable. This panel is typically used to line the shed walls, finishing off the stable seamlessly.Option for swinging stable panel. Suitable to convert a standard stable panel into a mare and foal box, or for an injured horse on long box rest.
Option for External Day yard doors and Option for External Shutter windows.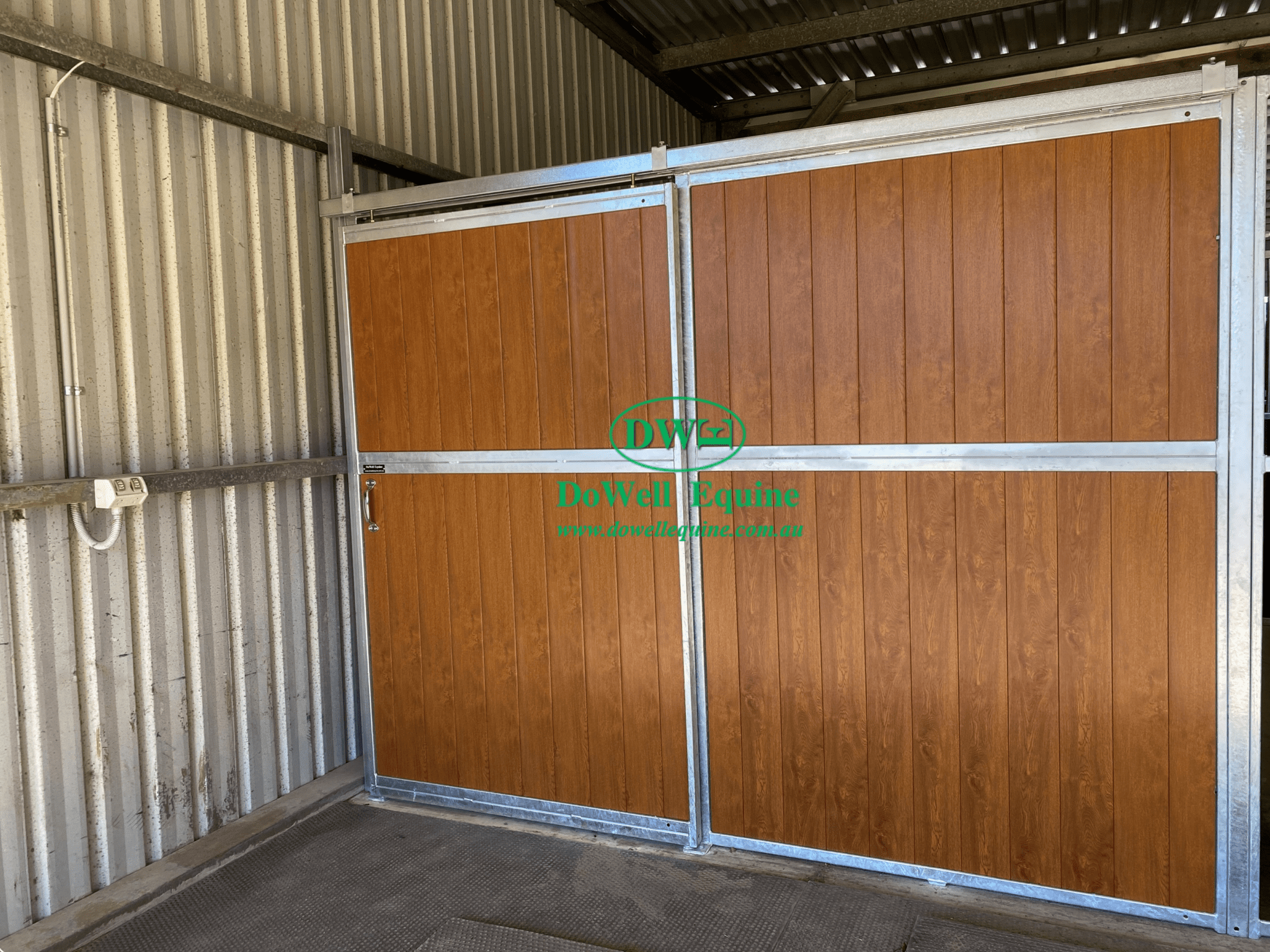 Tack/ Feed Room Door
If you are looking for the perfect finish to your stable complex. Why not consider matching doors to your Tack Room and Feed Room. 
Options: Swinging or sliding doors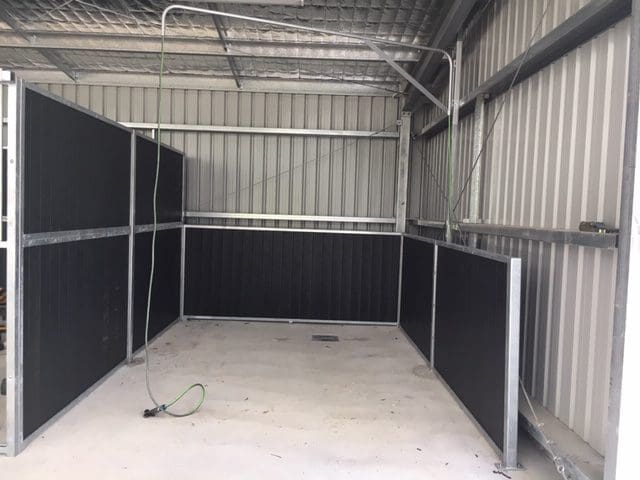 1300mm High Wall
1300mm high walls made the same way as our stable panels – only shorter are an ideal alternative panel option. Whether you are looking to fit out your wash bay or save a few dollars when lining your shed walls.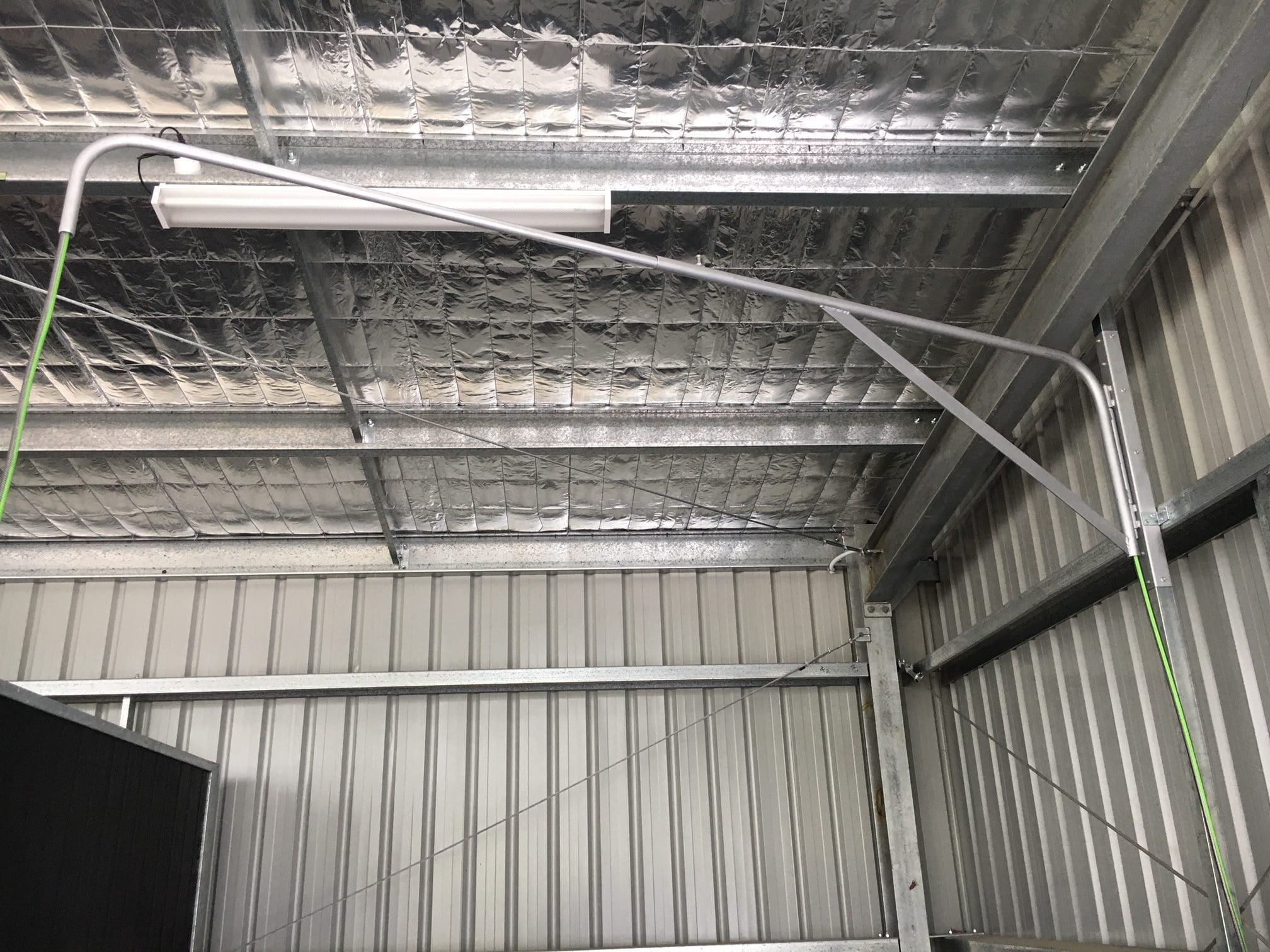 Wash Bay Boom - Extendable
Extendable wash bay boom; 
Specifications;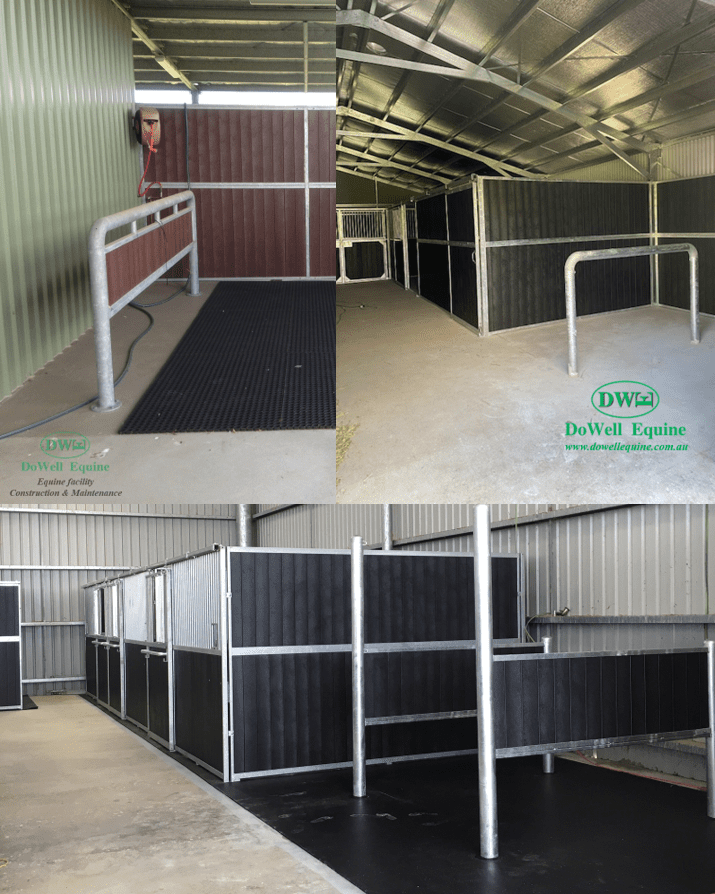 Cross Ties / Wash Bay Tie Ups
We have a range of Cross Ties / Wash Bay Tie up options to suit your needs. 
A simple bow 
Classic High Cross Ties 
Regal Bow 
Are you ready to design your stable and get a quote?
Work out what you want
Work out what you want, measure your area view our stable brochure to help you figure out your needs and browse our stable gallery. Doesn't need to be exact, just a guide we can help you more in step 2.
Fill in our online quote
Click to fill in our online quote this will allow us to gather enough information to give you a more accurate quote and also get our head around your job, so we can offer our professional advice regarding your panel choices.
We contact you
We will be in contact regarding your job. If you are happy with your quote we will order the materials, deliver them and even install them if needed!! It couldn't be easier.